Here at Ashe Upholstery we undertake work for both commercial and domestic clientele and can accommodate any size of project. from a Piano Stool, an antique, hand sprung armchair or deep buttoned Chesterfield sofa right up to the full refurbishment of a restaurant, club or even municipal building Ashe Upholstery has you covered.
We have worked on many commercial projects over our career and specialise in restaurant and hotel refurbishments; Some examples of our work can be seen at The Fludyers Hotel, Felixstowe, The Salthouse Harbour Hotel, Ipswich and The Gainsborough Labour Club, Ipswich, to name but a few.
We give every project the utmost, care, attention and expertise of 40+ years in the business which ensures client satisfaction every time. See below more details on the services we can offer you on your project…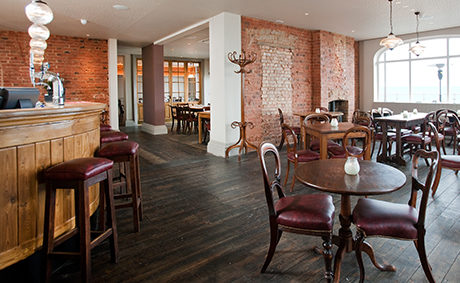 ---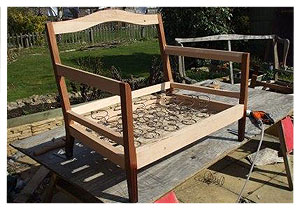 New Upholstery – Fresh From Frame
It might be the case that you're not looking to revamp an old piece of furniture, but that you want to completely start from scratch; look no further than Ashe Upholstery, because not only do we repair and reupholster furniture, but we can make a chair to your specification right from the frame upwards.
If you've seen a chair that you like the shape of or have any specific requirements, we can get a frame made just for you. All we need to see is a photograph of what you want, or perhaps just the measurements we would need to get your frame hand-made. We can then upholster it however you want and when finished this chair will be fully unique to you.
The sky really is the limit, so if you want something different why not have your furniture made fresh from the frame?
---
Re-upholstery
Full recovery
Your beloved old suite; the fabric is worn, the seat is sagging and it sits sadly in the corner of your living room. At this point it's time you gave that suite the attention it deserves to bring it back to its former glory.
Ashe Upholstery can strip your furniture right back down to the frame and renew everything from seat springs, damaged wood, fabric and padding of the armrests.
Whatever your furniture's needs, Ashe Upholstery will be there to assist. Maybe you want your old furniture to look exactly like it used to? Or perhaps you want to add a twist to an antique by covering it in a contemporary fabric? We can do the full works to breathe new life into your furniture.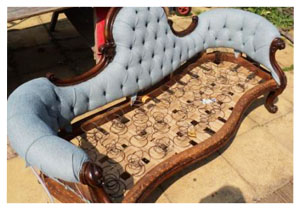 Rebuttoning and decorative work
Ashe Upholstery take great pride in giving superior quality even to the finest detail – after all, you not only want your furniture to be comfortable but you want the way it looks to be exceptional and unique.
That's why when choosing the new look for your soft furnishings you must take advantage of the decorative features that we can add. Deep buttoning sets off a Chesterfield perfectly, whilst white piping on a black armchair could give it a contemporary twist.
There's a wide range of finishing touches we can apply to make your furniture extra special. Why not opt for studwork on an antique or perhaps intricate beadwork on your footstool? If you hadn't thought about the finer details you don't need to worry, because as part of our estimate we can make suggestions about what we think would look best. The choice is yours.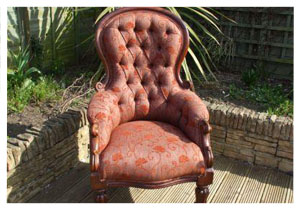 Replacing fabric
One of our most commonly used upholstery services is to replace the fabric on furniture. This can be for a wide range of reasons but it's no wonder so many people choose us – with an extensive collection of fabrics and the know-how to make even the most basic furniture look exceptional.
Whether you want a hard-wearing simple fabric for a family sofa or a highly decorative fabric for an antique in a showroom, we cater for all needs and ensure you get the result that you want. Perhaps you've already got a fabric you would love to see on your furniture? Not a problem – we can fit this for you. If this isn't the case, why not browse our fabrics for all colour schemes, textures and budgets in our virtual pattern book?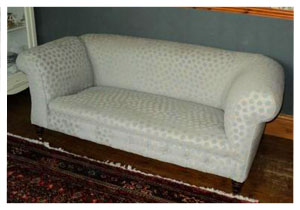 ---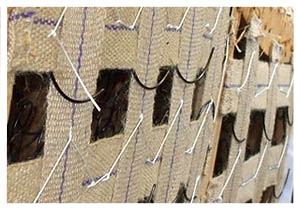 Seat replacement, spring repairs and re-webbing
We have encountered many problems with varying types of furniture and one of the most common is seat damage. Over years of use a seat can sag and wear and often this is all that lets a chair down. Unfortunately, most people tend to think that it is an unfixable problem, throw away a perfectly good piece of furniture and buy brand new. This of course means a large outlay of money and most of the time your old furniture would have lasted much longer than new mass produced furniture ever would.
Of course, disposing of your old furniture can also be a concern for the environment. When throwing away your old seat, remember that most of the materials it is made of aren't recyclable. It also takes a lot of energy and fresh wood to make mass-produced new furniture, so do your bit for the environment and save yourself a lot of time and money by coming to Ashe Upholstery.
With a simple estimate we can tell you exactly what's wrong with the seat and tell you how we can put it right again. It might be that it just needs fresh padding or it may need a whole new spring system and webbing. Whatever the scenario you can be rest assured that Ashe Upholstery will take the fuss and hassle out of getting your seat repaired.
---
Ashe Upholstery don't only specialise in fixed upholstery, we can also make bespoke, made to measure loose furniture covers.
Our upholsterer takes comprehensive measurements of your item of furniture and passes them over to our master machinist who then painstakingly creates your furniture cover to exacting size, standard and quality.
We also can manufacture arm caps and removable cushion covers.
---
As part of our comprehensive services we can also create and fit bespoke, made to measure Blinds and Curtains.
Our upholsterer will come and measure your aperture, discuss your requirements and details then our machinist will create your curtains or blinds to your exacting specifications.
Whether it's a simple roman blind you are after or perhaps a opulent set of Goblet Pleated floor to ceiling curtains is more your thing, Ashe Upholstery has the expertise and skills to make your vision a reality!!!
We have a wide variety of fabrics to choose from in many different styles or textures, why not look at our Virtual Patternbook for some ideas and inspiration, we have physical patternbooks as well for all of our collections online so that you can see them in the flesh.
---
Ashe Upholstery can also create bespoke cushions, splat mats, bolsters and other stuffed furniture accessories.
We can also manufacture Headboards, Pelmets and other mounted furniture hardware in any style and to the highest standards of quality or craftsmanship.